G3 CLOTHING & STANDARDS
G3.1

IDENTIFICATION:

All competitors, irrespective of age, are to have some means of ready identification (first and last name, eg. Bruce Bayliss) stitched or screened on the exterior of their racing overalls and wet racing clothing. Options:
• on the outside left or right breast of the overalls.
• on the outside of the overalls belt.
G3.2

CLOTHING:

Race suits must be worn. Race suits must cover the whole body from neck to ankles, including arms, and be adequately secured at the neck, wrists and ankles. Race suits other than leather must be lined with cotton, polycotton or brushed cotton which must be attached to all garment seams. Boiler type race suits with pop type buttons are unacceptable. Race suits must have adequate and operable fastenings and be in sound condition free of tears, damage and excessive wear. The Chief Steward's decision regarding the acceptability or otherwise of race suits and other clothing will be final.
The following options are permitted:
Option 1 One piece fabric race suits homologated by the CIK-FIA to CIK Standard N2001-1 or N2013 with an efficiency level of either Level 1 or Level 2. The CIK-FIA homologation label (see sample below) is on the back of the collar normally embroidered on to the outer fabric layer only. For KartSport New Zealand sanctioned events, race suits homologated by the CIK-FIA have no expiry date.
NOTE: CIK-FIA Homologations for Standard N2001-1 all expired on 31-12-2016 therefore any suit showing N2001-1 with an expiry date later than 31-12-2016 is incorrectly labelled and illegal to use.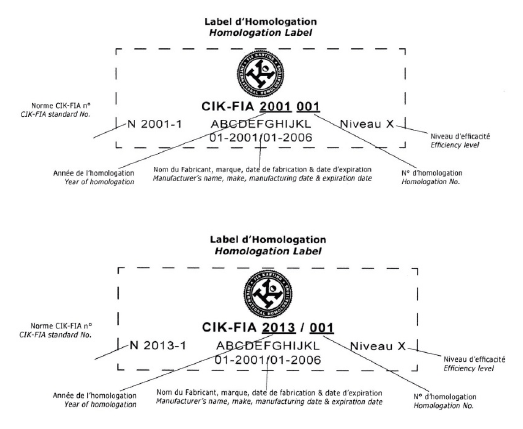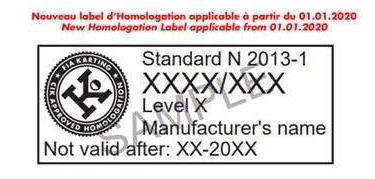 NOTE: All new CIK-FIA Homologated suits should be to the latest standard N2013-1 as shown in either of the two drawings above.
Option 2 One piece fabric race suits produced using an outer/inner fabric combination which meets CIK-FIA Homologation Regulation Article 8.11. Such race suits must have a KartSport New Zealand Approval Code Label (see sample below) embroidered on to the outer fabric layer only and positioned on the back of the collar.

Option 3 One or two piece leather race suits complying with the standards defined by the FIM. (1.2mm thickness) If two piece the two pieces must be securely and fully fastened together by an appropriate zip. Leather race suits are compulsory for all SuperKart International and National classes and strongly recommended for all other SuperKart classes.
NOTE: for CIK-FIA International Competition:
Only Overalls approved according to CIK-FIA Standard No. 2013-1, which are listed in "Homologated Overalls – Part 1", can be used.
Wet Weather Over-suit: A wet weather over-suit or other water resistant clothing or any other clothing may be worn over the race suit. Such wet weather over-suit/clothing must be adequately secured at the neck, ankles and wrists and must not have any protrusions.
Provided the wet weather over-suit is transparent and the name on the race suit (re Rule G3.1) can be seen clearly underneath, no additional marking is required as per Rule G3.1.
Otherwise a suitable permanent marking of the name as per Rule G3.1 on the wet weather over-suit/clothing, that won't degrade during the event, is required.
| | |
| --- | --- |
| | It is important that if you observe unprotected wrists and/or ankles the competitor needs to be informed that this does not comply with the regulations. Cover up. The two most vulnerable parts on the body in an incident are the ankles and wrists. |
G3.3

GLOVES:

These must be of substantial material, eg. leather or vinyl etc, give complete hand and finger protection, be firm fitting and worn during practice and competition.
NOTE: Vinyl must be lined and must not be in direct contact with the skin.
Check the fitting of the gloves. A number of youngsters use BMX gloves which are very short and do not reach the wrist.
G3.4

FOOTWEAR:

Suitable footwear of enclosed type giving full foot protection. Laced type with ankle protection preferred.
Race boots are preferred, but the common footwear called runners (sports shoes) are OK providing the competitor wears socks that go under the race suit.
---