G EQUIPMENT AND RESPONSIBILITY
G1 RESPONSIBILITY
G1.1

INDEMNITY:

Every competitor and parent/legal guardian (if competitor is under 18 years) whether in practice or competition must sign an indemnity form (which will be supplied by the promoting organisation) before racing. A parent/legal guardian signing on behalf of a minor must be in attendance at all times during the course of the days competition including drivers' briefing. This will in effect indemnify the promoting organisation and affiliates of any responsibility to the competitor or equipment. A completely legal indemnity form must name as indemnified; The CIK-FIA, the MSNZ, KartSport New Zealand and all affiliates, the owner or lessee of the property on which the event is held, the promoting Club and all assistants, helpers, officers, employees and members of any of the forenamed organisations. The indemnity form must then be signed by a witness of the promoting organisation conducting the event.
There are approved KartSport Indemnity/Declaration forms and these can be accessed via the KartSport New Zealand website here.
If the event is permitted competitors will normally have pre-entered on an entry form which will include the indemnity and declaration.

KartSport New Zealand Standard Declaration Form
---
G1.2

CHANGE OF GUARDIAN:

Should a minor's parent or legal guardian not be able to attend the event or need to leave an event before it is completed, the parent/legal guardian and the stand in guardian must complete the Change of Guardian Indemnity Form.
This form is available from the KartSport New Zealand website here and Clubs/Race Officials should have copies available and be familiar with their use.

KartSport New Zealand Change of Guardian Form
---
G1.3

IT IS A COMPETITOR'S RESPONSIBILITY TO:

Be fully conversant with all the Regulations, Codes, Rules, Procedures and Specifications governing kart competition. To obey the lawful instructions of a responsible Official and comply with all rules regarding behaviour (Rules C3.1, G1.8, G1.9).
When requested by the Technical Officers or Machine Examiners present your kart in a clean and race ready condition for inspection.
If required include extra engines and tyres, etc.
Fast Track Club Day Scrutineering - When requested present your kart for a scrutineering recheck.
When requested by the Stewards or Race Officials, present your competition licence and proof of current affiliated Club membership for inspection along with your race suit, crash helmet, gloves and race footwear.
Ensure that an entry form is completed in full and is correct in detail.
Confirm your entry with the Event Organiser when required.
KartSport New Zealand Stewards, Race Officials and Technical Officers reserve the right to call any competitor, at any time during an event, to present his/her kart, personal racing safety apparel and competition licence to the Officials.
Be fully acquainted with the race programme including race timings where applicable.
When required be present with your kart on the out grid ready to compete.
To ensure that all bar coded seals are applied to the engine, chassis and any other controlled items as required by the Technical Officers or the Supplementary Rules of the event.
It is the competitor's responsibility to ensure these bar coded seals are fitted correctly, remain legible, undamaged and fitted at all times during the event.
Once issued by the Technical Officers these seals must be fitted by the competitor prior to entering the controlled Out Grid area either before their first Heat or the first time they present their kart for Qualifying depending on the event format. Or fitted at a time and place as stated in the Supplementary Rules or as instructed by a Technical Officer. Karts must be presented immediately to the bar code scanning area to have these bar codes recorded before entering the Out Grid. Bar code scanning may commence before or as soon as the last kart has left the Out Grid from the previous race. The scanning of these components may also take place before exiting the scales area or any other designated area.
Ensure that all sealing/marking as required to the engine including any other controlled items and tyres is/are applied before leaving the scales/secure area where such sealing/marking is being carried out.
Leave your pit area clean and tidy.
Should a competitor have a medical condition, it is the competitor's responsibility to report, prior to competition, this condition to the event First Aid personnel (Rule Q6).
G1.4

DRIVERS BRIEFING:

Attendance at Drivers Briefing is compulsory for all competitors and the nominated parent/guardian of minors. Competitors and parents/guardians must follow all verbal instructions issued by Race Officials and Technical Officers at Drivers Briefing.
Such instructions carry the same status as any Supplementary Rules issued at the event.
G1.5

SCRUTINEERING, GEAR CHECK and DOCUMENTATION:

When required, present your kart to the Machine Examiners in a clean and race ready condition and when applicable extra engines and tyres. Present to the Race Officials race suit, helmet, gloves, race footwear, current Competition Licence including proof of current Club membership.
KartSport New Zealand Race Officials and/or Technical Officers reserve the right to call any competitor at any time during the event to present his/her kart, racing apparel and Competition Licence to the Officials.
Any non compliance with the Rules or Specifications may incur penalties.
Karts will assemble where requested and be checked for safety and compliance with the rules and specifications.
If it is a Championship event (or if noted on the Permit) it is possible that only some karts will be required for Scrutineering.
In this case the scrutineering will be carried out randomly on request by the scrutineers.
Documentation
Following scrutineering, the competitors will then proceed to gear check and documentation.
In some cases the gear check and documentation may be done before scrutineering.
They will have – race suit, race boots if applicable, helmet with visor attached, gloves, current Competition Licence and proof of current club membership. Checking of these items is a Race Officials responsibility.
Race Suit: Check the compliance label on the back of the collar and for competitor's name on the suit, the suit is in good condition and complies with the rules - see section G3 Clothing for details.
A race suit with tears and/or abrasions, lining ripped or missing or the suit is so thin you can nearly see through it is not in good condition.
Race Boots: Refer to appropriate rules and check for appropriate condition.
Helmet and Visor: (More detailed information is in section G2 of this module.) Check to confirm that it complies with the helmet rules and that the helmet and visor are in good condition. If the helmet does not have a current KartSport approval sticker on it and you are happy the helmet complies, place an approval sticker on the back of the helmet.
Competition Licence: Check List –
| | |
| --- | --- |
| •FRONT COVER – Check expiry date. If the Licence has expired advise the competitor that there will be no racing today unless he/she takes out a One Day Licence (only if the event is a club day) or talks to the Race Secretary to make a licence application on the day. | |
---
•INSIDE FRONT COVER – (as below). Check that the licence is signed and that the competitor is racing in the correct age class. Date of birth (for non seniors) is on the inside back cover (as shown further below). If not in the correct class advise the competitor that the licence must be forwarded to the Competition Licence Secretary immediately. At this point, if the competitors age is such that they should be in the next age group class, you have the authority to allow the competitor to race in that class on a Club day, but you must note this on the inside cover. Upgrade to Junior Restricted, date, signature and stamp. If the competitor has this information already on the licence from a previous event take the entrant and signed in guardian to the Chief Steward.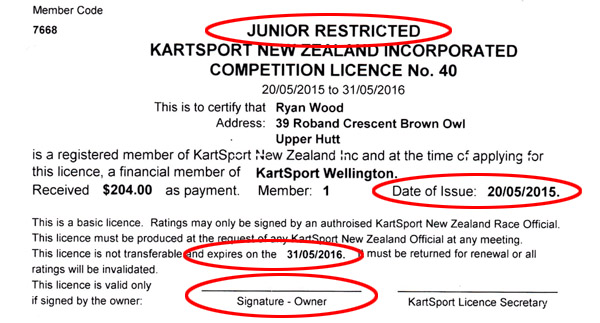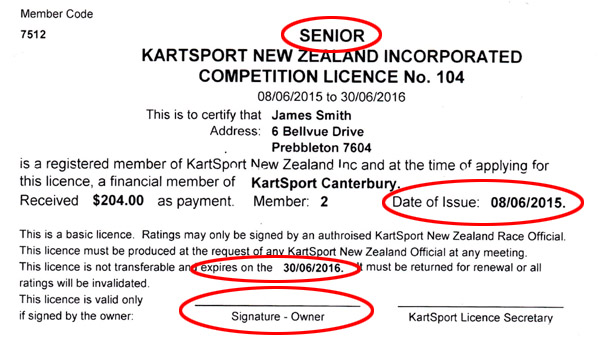 NOTE : In both these examples the competitor MUST sign the licence before it becomes valid. Note also the the licence will have been signed by the KartSport Licence Secretary.
---
•BACK INSIDE – (as below). Check that the panel Next of Kin and Doctor are completed. If the Medical Assessment has a stamp Medical Condition, advise the competitor to inform the First Aid personnel that he/she has a medical condition.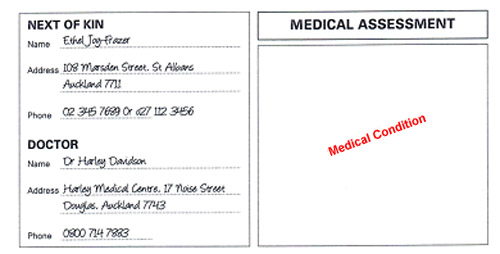 ---
•INSIDE BACK COVER – (as below). Check that the competitor has the correct rating for the event.
This is an example of a non Senior Licence.

Note the date of birth.

Here the competitor had a Tier 1 rating when the licence was issued as shown by the date of 20/05/2015




This is an example of a Senior Licence.

Note their is no date of birth but the ROAD ratings are shown on the right - in this example the competitor has no ROAD ratings.

Here the competitor had a Tier 2 rating when the licence was issued as shown by the date of 08/06/2015




Here is another example of a non Senior Licence where the rating is a Tier 2 attained during the current licence period and signed off by 2 x Race Officials.





---
•PENALTY SECTION and LOG BOOK - (as below). Check that there are no outstanding fines or suspensions. If there is an outstanding fine, it has to be paid before the competitor can race. This is to be paid to the Chief Steward who will then forward to the Race Official's Coordinator with details of the PNR number. On payment, write paid and date. Stamp the entry. If everything is OK go to the log book section and make the next entry.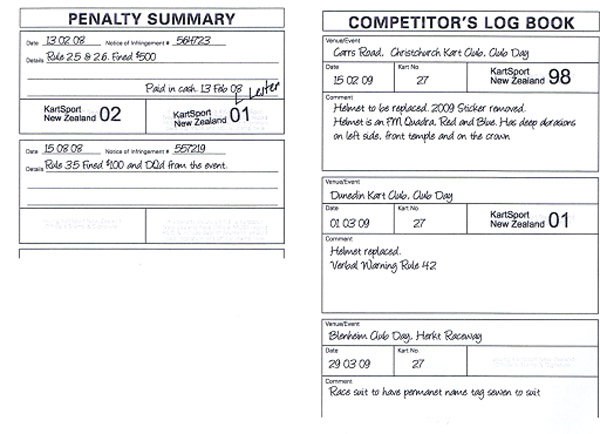 ---
If a Competitor has either lost or left his/her Competition Licence at home, the below declaration is to be completed.
Note : This declaration IS NOT to be used for a competition licence in transit and a one day licence CANNOT be issued

to any competitor who holds a current competition licence.
Please note the fee for completing this declaration is $20 as per Rule T2 of the KartSport Manual and NOTE $50 as printed on some forms.
Licences in transit – if the event Race Secretary does not hold an email from KartSport New Zealand advising that a Licence is in transit, the competitor will be required to complete another Licence application and pay the relevant fees to the Club. These will be forwarded after the event by the Club to KartSport New Zealand and if a Licence is being held or has been returned the 2nd payment will not be processed.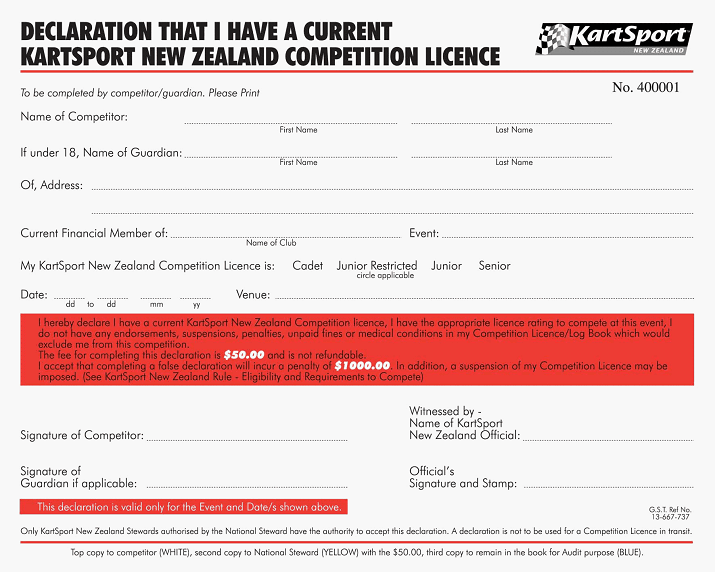 ---
G1.6

FINES:

Fines shall be paid within 48 hours of notification. Any delay in making payment will result in suspension and/or any other penalties being imposed. The payment can be made to the issuing official on the day, or, sent directly to the KartSport New Zealand National Steward.
G1.7

NEW COMPETITORS:

Must display a large black cross 'X' only (no race number) on their rear number plate (adhesive tape is acceptable) until a KartSport New Zealand Grade 1, 2 or 3 Race Official has given permission to remove it as per Rule D3.1.1

.
G1.8 PIT CREW AND MECHANICS will be held to be the responsibility of the competitor for their actions.
Anything that the Pit Crew, Mechanics, family members and the signed in Guardians do that infringes the Rules of KartSport New Zealand, it is the competitor who will be penalised for their actions. Stewards should consider that when issuing penalties for infringements of this rule - they should be monetary and not inflicting a race penalty on the competitor.
G1.9

UNACCEPTABLE BEHAVIOUR:

Physical or verbal abuse by an official or competitor of any kind will not be tolerated whether directed at a fellow competitor or official. Any behaviour at a race meeting which in the eyes of the organisers or KartSport New Zealand is detrimental to the image of karting as a sport will not be tolerated. Any breach of this rule during practice or competition can result in disqualification and any further penalties that may be imposed. The definition of 'practice' or 'competition' shall mean from the time the gates open at the track to the completion of the respective on-site or off-site prize giving.
KartSport New Zealand has a zero tolerance to unacceptable behaviour.
Race Officials should take urgent action on any reports.
Consult Rule C9.3 for the maximum penalties available or go into recess and ring the National Steward.
All serious matters should also be referred to KartSport New Zealand.
G1.10 ACCESS TO RACING CONFINES:
No person other than a driver or, in the case of a person under 18 years, his/her parent/legal guardian is permitted inside the racing confines unless:
• specifically requested by a KartSport New Zealand Official
• he/she is on official business
• he/she is providing outside assistance as allowed for under class rules. (Rule J1.6).
KartSport New Zealand have a clear infield policy with only the required Flag Marshals and 2 or 3 Race Officials. If you wish to speak with a competitor meet them in a designated safe area or preferably outside the racing confines. Photographers who have signed the official photographers declaration/indemnity and are wearing a fluro safety vest are on official business and may access the Racing Confines.
G1.11

SMOKING/NAKED FLAMES:

Smoking and naked flames are not permitted in the designated pits or extended pit area, the dummy grid, pit shute or technical inspection areas. It is recommended that Clubs establish "smoking permitted areas, gas welding areas and Gas BBQ/cooking permitted areas".
G1.12

ACCIDENTS:

Any kart involved in an accident may be requested by the Officials to be presented to the scrutineer before returning to the track. Injuries sustained requiring doctor or hospital treatment MUST be reported to the Chief Steward.
At a Club Day specific scrutineers may not be present however as all Race Officials are also scrutineers you will be expected to be able to scrutineer the kart if required.
The Chief Steward must file a report to the National Steward on any incident involving injuries requiring doctor or hospital treatment.
G1.13

IN THE EVENT OF AN INCIDENT

which may impede your ability to operate a kart and which requires referral to a hospital, medical centre or GP, a medical clearance to race must be produced, signed and stamped by a registered medical practitioner under notes in KartSport New Zealand Licence Book. Failure to declare the incident and provide clearance may result in licence suspension.
G1.14 LONG HAIR:At all times when operating a kart, long hair must be retained within protective apparel.
(a) Competitors may use a hair net, hood, balaclava or other device to retain hair.
(b) Extremely long hair must be retained within the hood, balaclava and driving suit and not tucked under the helmet, in order to compromise the helmet's performance in the event of an impact.
G1.15

ALL COMPETITORS AND PIT CREW

must take into account the potential danger of karts being operated on stands in the pit area. Karts with engines running must not be moved around the pit area or dummy grid. Extreme care must be taken at all times to protect eyes, hands, hair, etc through the use of appropriate equipment and actions.
Pushing a kart along on a trolley stand with the engine running is a very dangerous action and is a recipe for a major accident. If you witness this stupidity, request the mechanic to stop and turn the engine off. Quote the rule number. If the mechanic decides to become difficult or argumentative, start the process of a hearing using rule G1.9 and G1.15.
G1.16

CREW FOOTWEAR:

Any person within the racing confines, the in grid and the out grid must comply with the minimum regulations for footwear, which must be worn. Footwear must be enclosed from heel to toe, either laced, strapped or elasticised. The wearing of jandals (thongs) or open sandals is not permitted.
G1.17

REVVING KART ENGINES:

For all events affiliated Clubs will designate an area or areas for the revving of kart engines. This/these areas will be placed in an appropriate area away from the main pit area where other competitors are pitting and away from the general public. Competitors will be required to follow instructions from the host Club regarding revving engines in these designated areas. Failure to follow these instructions may result in exclusion from the meeting.
G1.18

RUNNING IN ENGINES:

Competitors running in engines during testing/practice/tuning runs must wear a Hi Viz Vest securely fitted on the outside of their Race Suit or Wet Weather Over-Suit and place a red cross on their kart's rear number plate. Cross tape width: 25mm minimum as per Rule L2.10.
G1.19 FIRE PROTECTION: All kart trailers, kart pit sites must have a minimum of 1 x 2.5 kg Dry Powder Fire Extinguisher, with a 3A:4OB:E rating.
The fire extinguisher is required to be housed in a mounting bracket and be located in a visible and easy located position in the kart trailer.

When operating out of pit site without a kart trailer the fire extinguisher is required to be located in a visible and easy

located position close to the kart.

It is advisable to purchase this rated KartSport compliant fire extinguisher from a reputable fire extinguisher company.

Further information on fuel safety, fuel storage & handling, separation distances, refuelling and defueling, fuel spillage, fuel and oil waste can be found in the KSNZ Fuel Safety Document and the Storing & Handling Fuel at Motorsport Events document on the KartSport New Zealand website.
G1.20

Parc Ferme:

Access to Parc Ferme is strictly limited to the competitor and one guardian/mechanic (who must remain beside their kart). Access to Parc Ferme by additional personnel is at the sole discretion of the Chief Technical Officer.
---