TRACK LAYOUT and the ROLLING START PROCESS
All tracks will be marked out as shown by the diagram below.
There are 3 lines (as below) that are fundamental to the rolling start procedure.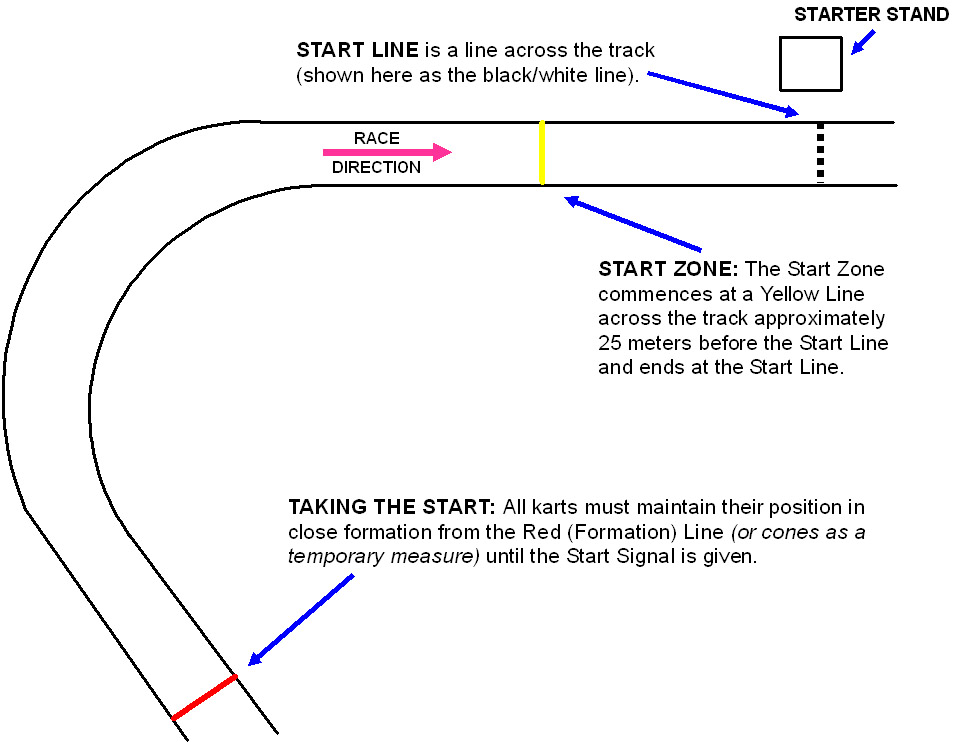 START LINE is a line across the track (shown above as the black/white line).
The Starters Stand should be positioned in line with, or as close to this Start line as possible and elevated at least 2 or 3 metres above the track to give you an unobstructed view of the approaching karts from the Red Formation Line to the Start Line.
START ZONE: The Start Zone commences at a Yellow Line across the track approximately 25 meters before the Start Line and ends at the Start Line. A Start Signal will not be given in a Rolling Start before the Pole Kart crosses the Yellow Line or after the Pole Kart crosses the Start Line. The Start Zone will be used for all Sprint racing Rolling starts.
TAKING THE START: All karts must maintain their position in close formation from the Red (Formation) Line (or cones as a temporary measure) until the Start Signal is given.
(The position of the Red Line across the track is approximately 100 metres before the Yellow Line depending on the track design and is subject to the prior approval of the National Track and Safety Inspector.)
It is the responsibility of the Pole Kart to deliver the field from the Red (Formation) Line to the Start Zone at a steady pace between quarter and half speed.
No kart may accelerate/decelerate or move out of position while in formation until the Start Signal is given.
Competitors must place their rear wheel adjacent to the appropriate parallel white line in the middle of the track or remain wholly within the appropriate marked lane until the Start Signal is given (except in the case of a single row restart – Rule J2.19).
The Pole Kart must not be passed before the Start Signal is given.
If a Start Signal is not given before the Pole Kart crosses the Start Line another rolling lap will take place.
For further information regarding track marking and the layout requirements for 'Start Lanes' (recommended) or two continuous white lines down the centre of the start straight, see the Track and Complex Rating Code, Item 2.15, available here.
---